The value of balance can be handled in different ways. The balance can be set or changed. This article provides instructions on how to change or set the balance value for one person at a time. Instructions for setting or changing balance for multiple people at once can be found here.
The right to edit balance is given via worktime roles in the high-level permission - Can administer balances. If this right has not been granted, the person cannot edit balances.
Please note that if an employee wants to be able to edit another person's balance, they must be marked as a supervisor for the person.
Balance reset
The balance is set for example, when the service is first taken into use. The setting can also be made in other situations as needed. The value can be set to any, such as zero or the balance reading accrued from a previous balance value. The balance setting is done on the same day on which it should come into effect. Thus, if the service is taken into use for example, on the 1st of the month, the balance is set for the same day.
Setting a balance gives the service a base value for calculations starting that day. The start time of the day is considered to be the beginning of the defined working day (in Worktime > working community / setting group settings > work hours > TES > start of the working week).
The balance is set by going to the right person's calendar view and creating a new event for the desired day. Select "Balance Reset" as the event type. Enter the balance by typing it in the New value field. Add a note if needed and press save.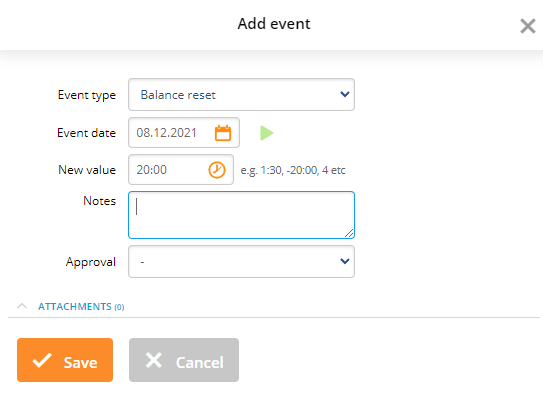 Balance change
The Balance Change -event can be used to change an employee's balance. The function can be used, for example, to reduce Competitiveness Agreement hours or to equalize the hours of a part-time employee. The value of the change is defined in the entry and the program calculates new value for the balance based on the amount of the balance already set.
Select Balance Change > To change the change value, click the Change Amount field. The amount can be either negative (-) or positive (+). Optionally, add a note and save the event.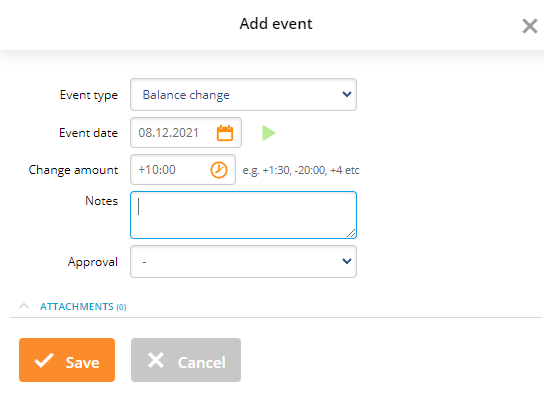 Balance calculations
The service automatically calculates the hourly balance according to the settings set in the person's setting group. Changes in recorded events affect the value of the balance in real time. The balance is not calculated into the future, the most recent value is always the current day's balance value.