Events added to Worktime can be deleted either individually or with a multi-selection function. Rights to delete events is defined in Work time roles. If person has rights to delete, person has also rights to edit events.
It might be that according to your company policy you can delete events by yourself. If you cannot see features introduced in this article when you log in to Nepton, it might be that according to your company policy, only administrators and/or supervisors are allowed to delete events. If this is the case, please contact your supervisor or Nepton administrator.
Events can be deleted in calendar or table view or individually in mobile view.

To delete an event individually, click on the event and the menu below will open: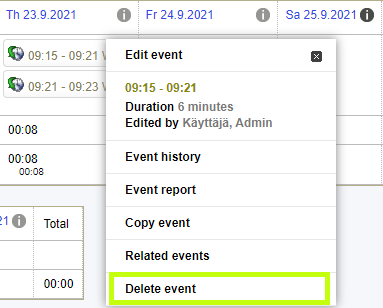 You can also delete multiple events at the same time. Please find article about that here.