Events recorded to calendar in worktime can be flexibly edited. Events can be edited in calendar and table view or individually in mobile view.
If you notice errors in your own recordings, you can edit the recording errors yourself, depending on your company's policies. If you cannot see features introduced in this article when you log in to Nepton, it might be that according to your company policy, only administrators and/or supervisors are allowed to edit events. If this is the case, please contact your supervisor or Nepton administrator.
To edit an event, click on the event in the calendar, and the menu below will open: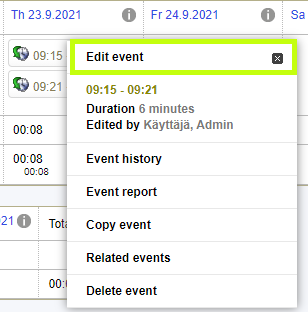 Click Edit event and the edit window will open in a separate window: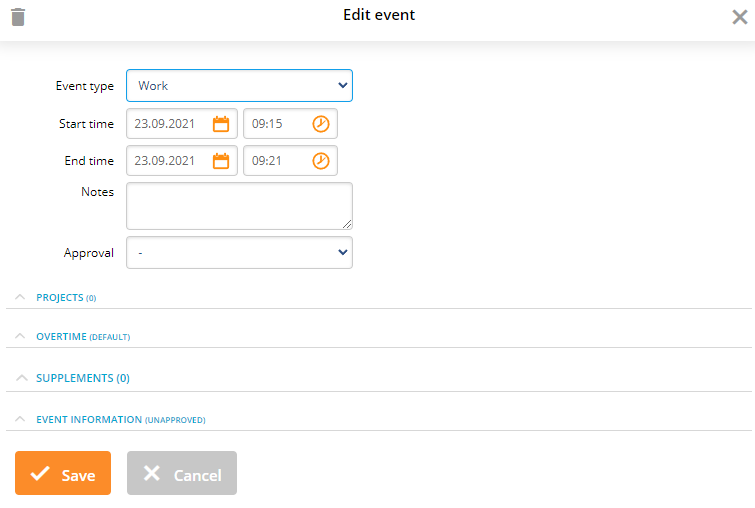 The event can be flexibly edited:

- Used Event type
- Start and End time of the event
- How to process overtime after regular working hours
- Supplements earned on event
- Project targets
- Attachments (if enabled for deployment)
- Comments


Editing options change between different event types, depending on if the event is for example Work - or Absence event type. Also company specific configurations might affect to the editing options.

Rights to edit events is defined in Work time roles. If person has rights to edit events, person has also rights to delete events.

Event editing rights may be restricted or denied if event is approved or locked. Company administrators can always edit even approved and locked events.

All event editing data is saved to history data.