The role "Supervisor" or upper role in Employees permissions, gives a person rights to plan work shifts in Planning. Upper roles are Unit manager, Salary management, HR management and Administration. In order to be able to plan shifts, a person must belong to at least one unit and to at least one location of the unit.
If person needs rights to plan shifts, check the following things:
1. Person's unit
You can add unit to a person in Person's information settings in Employees tab, if he or she doesn't already has it. A person can have several units, when one unit is primary and others are secondary. That value is only informative.

2. Person's role in Employees tab
You can define person's role in Employees tab person's information settings. If person needs only rights to plan work shifts, define role as a "Supervisor".

Person's role can be "Supervisor" even if person does not actually work in supervisor tasks. If person has subordinates, they need to be defined separately.
When you have defined "Supervisor" or upper role to the person, the shift planning tab becomes visible in Nepton.

3. Person's membership in location of the unit
1. Go to the shift planning tab and select the unit to which the supervisor belongs to.


Unit selection is not shown if there is only one unit in your environment, then page is redirected straight to the location selection.
2. Select Locations tab from top of page.

3. Select Location, for which the person is to plan shifts.

4. Open the Location Persons menu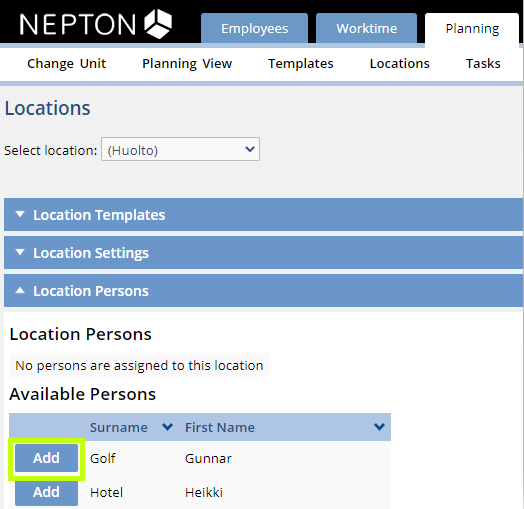 5. Add person to the previously selected location using the Add button. You can change the location from top of page using Select location. The person was successfully added, once person's name moves up, underneath 'Location Persons'. Adding person is not needed to save separately.
​Location tree follows same principle of inheritance than other settings in Nepton. If person works in two different Locations, person can be added to the higher level Location above these two locations. Person is then shown in both locations shift planning view.
Person who is planning shifts might not be intended to be resourced to the planned shifts himself. This can be bypassed by selecting No to the Location resource.