Microsoft login allows users to access the Nepton service without entering password on each login. Organization can also apply their defined security policies for each login.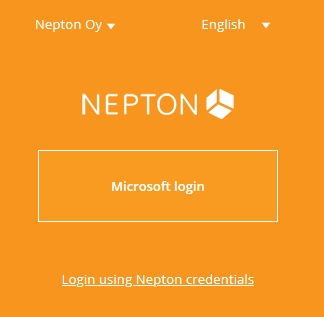 When taking Microsoft Login into use, you need to define certain configurations into your Azure AD environment. Instructions to do this can be read here.
Please note that if you require project work from Nepton during your Microsoft Login activation, such work can be invoiced on standard hour rates.
Users can also login to the Nepton service with direct link, aka without pressing the login button. This link can be constructed by taking the link https://go.nepton.com/msal.aspx?deploymentID=XXXX&cc=YYYY#msal_login. Replace values XXXX and YYYY with correct values for your organization. You can find these organization specific values by going to https://go.nepton.com page, writing the name of your organization and finding your organization. Values can now be copied from the URL address bar of your browser.