If a person has a reduced daily working time, for example 60% of normal, a percentage of working time can be set for them. More detailed description about part-time options can be found in this article.
If the normal daily working time was 7 hours 30 minutes and the weekly working time 37 hours 30 minutes, 60% of the working time percentage would be calculated:
For daily working time 4 hours 30 minutes
For weekly working time 22 hours and 30 minutes
The working time percentage can be set in Employees > Persons > open the person's information from the magnifying glass icon and go to the Employment information section.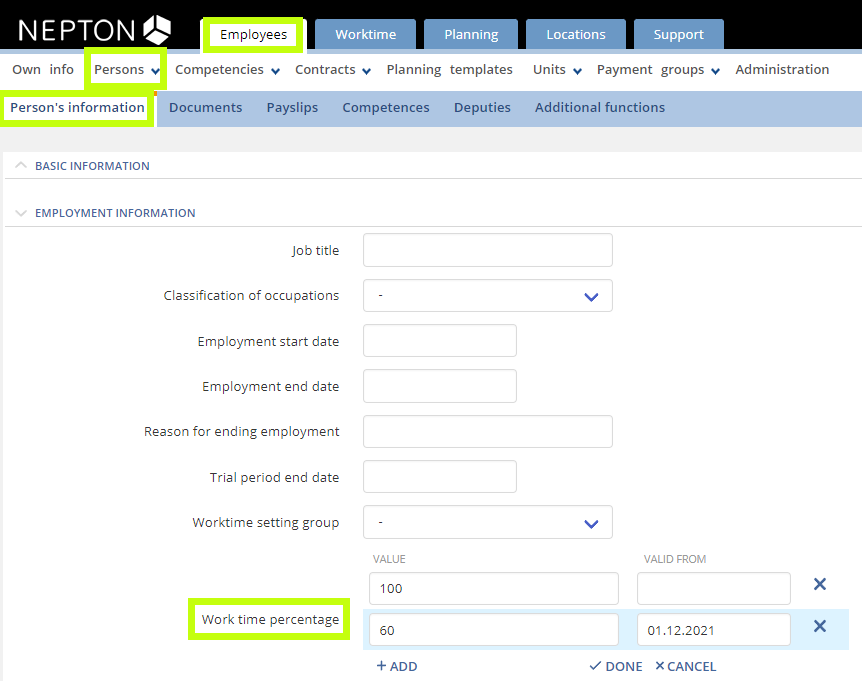 NOTE! The working time percentage is entered without a percentage sign. An empty field and 100% are both interpreted as full-time (100%). The work time percentage field works with the validity function.
The work time percentage does not affect:
daily and weekly maximum TES time
daily work time interpreted from a shift
if the daily or weekly work time comes from a daily exception entry
leveling period hours