Nepton takes accessibility and equality very seriously and as such we are constantly improving and updating the platform to do better. We want to hear from you if there is something specific we can improve.
Worktime clocking for users with disabilities
We offer a dedicated view for users with disabilities to clock their work hours. It is simplified for disability tools such as screen readers and is suitable for desktop and mobile use. If you would like to enable this feature for your users, please get in touch.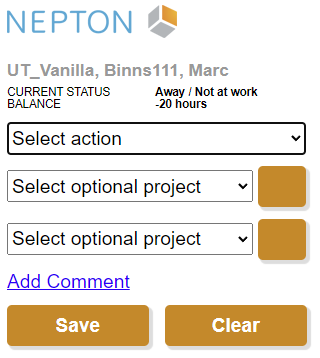 We're always improving
We consider accessibility and equality every day and we are actively working to modernise our whole user interface. As such, our modernised pages should work with many disability tools and should have sensible language and terms. However, we recognise that some of the older pages and features still need a lot of work! If you see something specific you'd like us to change or improve, please get in touch.