It is recommended to delete a person when an employee's working contract has ended. Deleting the person does not delete any information saved for the person, or persons events or interpretation. When person is deleted they no longer can log into the service.
A person can be removed from users as follows:
In the Employment section, go to the list of persons.
Open the person card of the person you want to remove by clicking on the magnifying glass next to the person's name.
On the Person's Information tab, delete the RFID tag and the PIN code if they are in use. Add the employment end date.


4. Save the changes at the bottom of the page.
5. Move to additional functions tab and delete the username from Remove-button.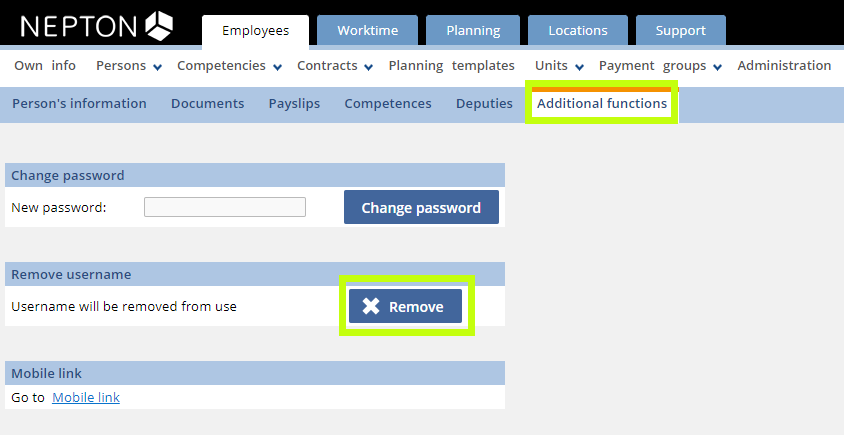 6. After removal you will be redirected to the person's information page. At the top of the page you will see a notification confirming that the username has been deleted. There is also a Restore-button.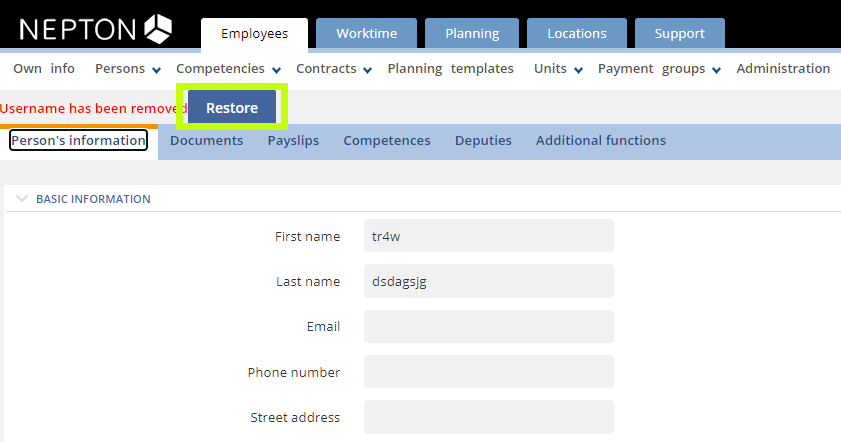 If only the employment end date is added, the person will still be able to log in to the service.
Please note that removing a user in the Employment section does not completely delete the person or the events stored for them. For example, the person appears in reports and in the calendar view if you are looking at a time period in when the person has been active. Always remember to mark the start and end dates of employment to all users.
Deleted person can be restored.
If deleted person has subordinates and valid deputies, subordinates are still visible for deputies in worktime views such as the events in calendar view.