If your working community uses PIN codes when recording working hours, an individual PIN code must be set for each user. PIN codes and RFID tag identifiers can be used at the same time in one deployment. In this case it is possible to record hours via terminal with either an RFID tag or a PIN code.
It is also possible to use login with a PIN code in connection with the old mobile link.
Adding a PIN code to a user
The PIN code is set for the user in the person information page in the Employment section. Go to Employees > Persons > Persons and open the person information of the right person from the magnifying glass image. Scroll down to Identifiers section.

The PIN code can be freely defined, or it can be created from the Generate New button. The self-defined PIN code can be entered in the field, or if you use the Generate new button the service creates a random PIN code for the person. Please note that the field uses validity function.
Adding a PIN code for all users
PIN code can be set for all users at once. This function creates a random PIN code for all persons.
Go to Employment > Administration > Tools.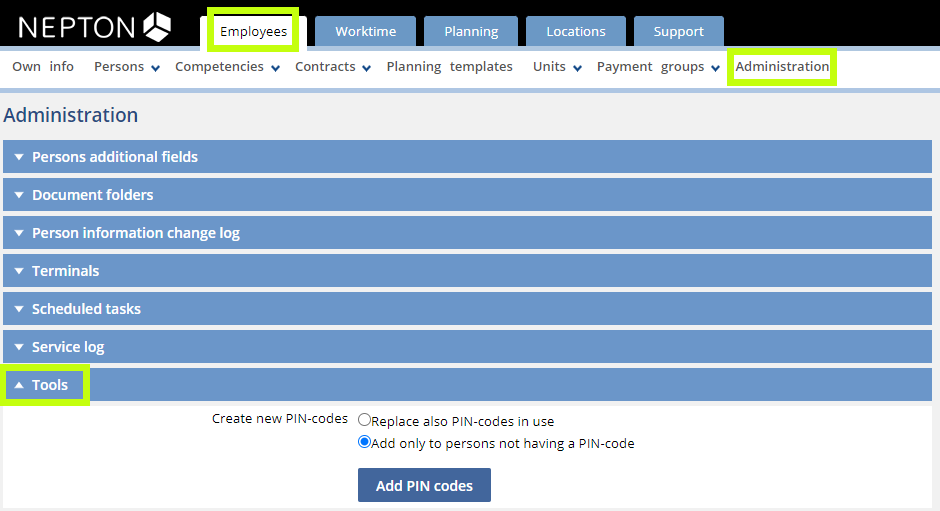 You can either choose new PIN codes only for people who don't already have them, or alternatively create new PIN codes for everyone. Press "Add PIN codes" to confirm.
Defining minimum length for PIN codes
The minimum length of the PIN code can be specified in Employees > Administration section. Setting the minimum length is only possible for Administrator level users. Go to Employment > Administration > Settings > General. The desired value can be specified in the "Minimum length of PIN" field.