It is possible to split salary data to several files. It could be needed for example for:
Salary data file per default cost group - each cost group would have its own file
Salary data file per project - each project would have its own file
Please note that no empty files are generated. If you split by default cost group and one doesn't have any salary data for it, there will be no file for that cost group.
Configuring export file splitting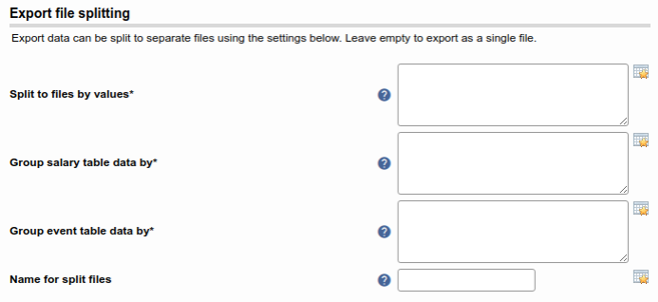 Settings for export file splitting can be found right after data query configuration fields in integration ruleset settings. Follow these steps to configure it:
Configure query for selecting values to split by. You can for example select all default cost group values or set predefined values.

Selecting default cost group values

SELECT

 

DISTINCT

 

defaultCostGroup

 

FROM

 

UserData




Selecting predefined values

SELECT

 

*

 

FROM

 

(

VALUES

 

(

'Value1'

),

 

(

'Value2'

))




Configure queries that populate UserSalaryData and UserEventData tables for each splitting value selected by query configured in step 1. Note that :splittingValue represents the splitting value in your query. Example queries for splitting by default cost group:

UserSalaryData

SELECT

 

*

 

FROM

 

UserSalaryData

 

WHERE

 

userCostGroup

 

=

 

:

splittingValue




UserEventData

SELECT

 

*

 

FROM

 

UserEventData

 

WHERE

 

userCostGroup

 

=

 

:

splittingValue




Optional: Configure filename pattern. Use <SplittingValue> as a replace pattern. If you split data to files by default cost group, that pattern will be replaced with default cost group.

If you for example want to have a file name that starts with the splitting value: <SplittingValue>_exportToSomeSystem.csv

If you export data for example for two cost groups (with codes 1200 and 9001), the file names would be 1200_exportToSomeSystem.csv and 9001_exportToSomeSystem.csv
Handling of several files in export
Manual export from UI - files are served in a ZIP archive
Scheduled export - all files are transferred to the defined folder separately
Public web service - ResponseString element will contain the ZIP archive data in base64 encoded format
How it works under the hood
When splitting to several files, there basically are 3 steps on how the data is generated:
Getting values to split by, for example default cost group (one file for one cost group)
Create new temporary tables for UserSalaryData and UserEventData and populate them with data specific for split by value (for example a specific default cost group). This is done for each selected value in step 1
Execute rulesets data queries on tables created in step 2.