In Employees-section it is possible to send messages to employees by e-mail or text message. Sending emails is available for everyone without extra charge. The SMS service, on the other hand, is an additional service that can be ordered separately. If you are interested in using the service, please contact Nepton Sales or Customer Service.
Emails and text messages are sent by clicking the Notify Persons button in the Persons List (Employees > People).

The rights for this function are:
Administrator, HR management and Salary Management can send messages to everyone
Unit Managers can send messages to their subordinates and persons in their unit
Supervisors can send messages to their subordinates
Notify persons -function is not visible to employees.
The recipient list is formed based on the people who are shown on the person list. By clicking Plus icon you can see and edit the people to whom the message is sent.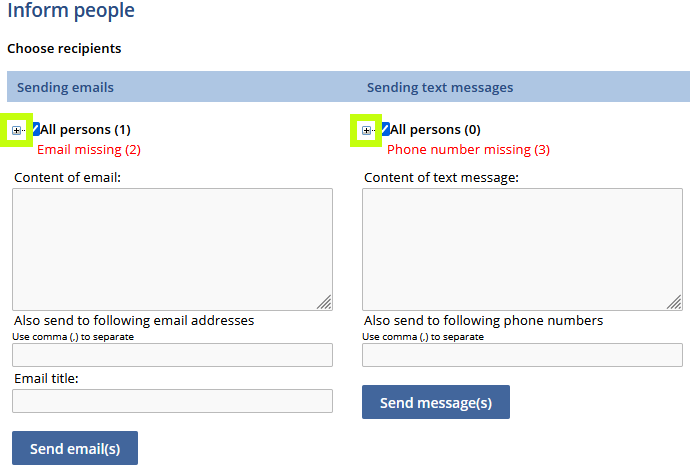 By default, only emails are visible in the Inform People window. The text message service is shown if it is activated.
The service notifies you of any missing emails and phone numbers in red colour. In addition to people selected according to the persons list, both e-mails and text messages can be delivered to other e-mail addresses and telephone numbers.