Below is an outline of the different terminal hardware currently offered by Nepton. If you need information about an older terminal model, please make a support request.
For marketing information, please visit https://nepton.com/challenges-and-solutions/terminals/
Nepton Touch
The device uses modern materials and has a built-in speaker and RFID reader. It replaces the original Nepton Touch devices from September 2022 onwards.
Terminals can be used when offline as they have space for saving thousands of records into memory until they are reconnected. Offline records are transferred to Nepton as soon as the device is back online.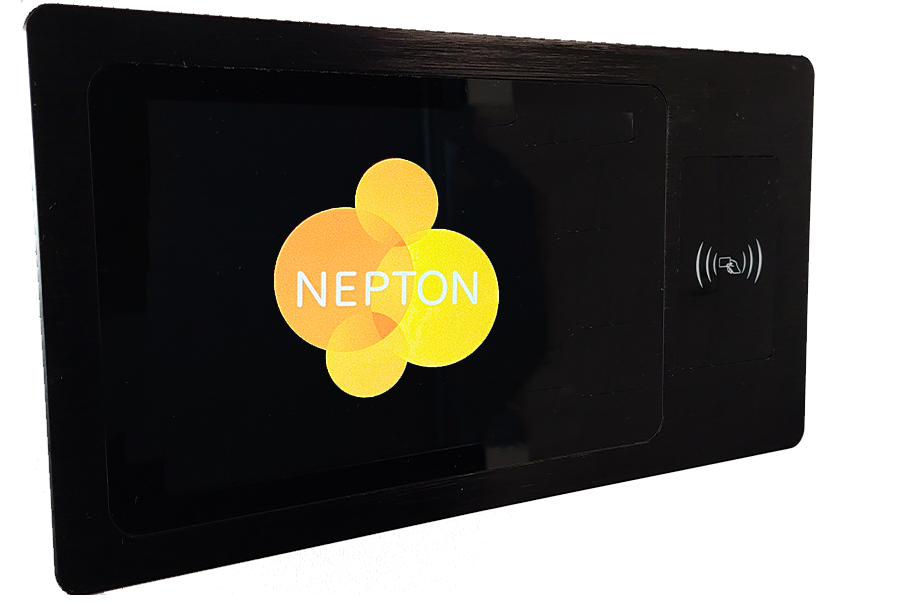 Main features
Log in with a PIN or RFID
High resolution 10.1" industrial A+ grade LCD touch screen
Realtech RTL811E gigabit network card (RJ45/Ethernet)
Can be used immediately after being connected to the internet
Easy wall mounting with included basic VESA-wall mount kit
Windows 10 IOT Enterprise LTSC operating system
Onboard SSD hard drive and Intel Celeron CPU for performance
Can be used as a cafeteria terminal
Existing access control tags can be used
RFID reader complying with ISO14443-A and ISO14443-B standards at 13,56 MHz:

Example compatible tags: MIFARE® DESFire: UID + Application files , MIFARE® Classic: UID + Sectors, MIFARE® Ultralight UID + pages, MIFARE® Plus UID security levels 1 and 3, MIFARE® SmartMX (MIFARE® Classic and MIFARE® DESFire EV1 emulation modes), NFC (UID), Mifare Classic 7 Byte UID + sectors, Legic, ISO15693 (UID)

Possibility to use external RFID-reader to support a wide range of RFID tags. Guidance to the external readers' supported tags can be found here.
POE+ and POE++ distribution devices can be used for power supply (30 Watt power requirement). The distribution device must have a separate power output (e.g. Planet POE-172S), which is connected to the device's power connector. If there is no PoE supply in the ethernet cable, a separate PoE injector is still needed (e.g. Ernitec Electra-P2-60W).
Rated to operate between -20 to +70 degrees centigrade
Constructed from an Aluminum alloy for durability
NFC TimeClean
The device is compact and rugged with a built-in battery and mobile connection for use in remote, on the move, or hard-to-wire areas.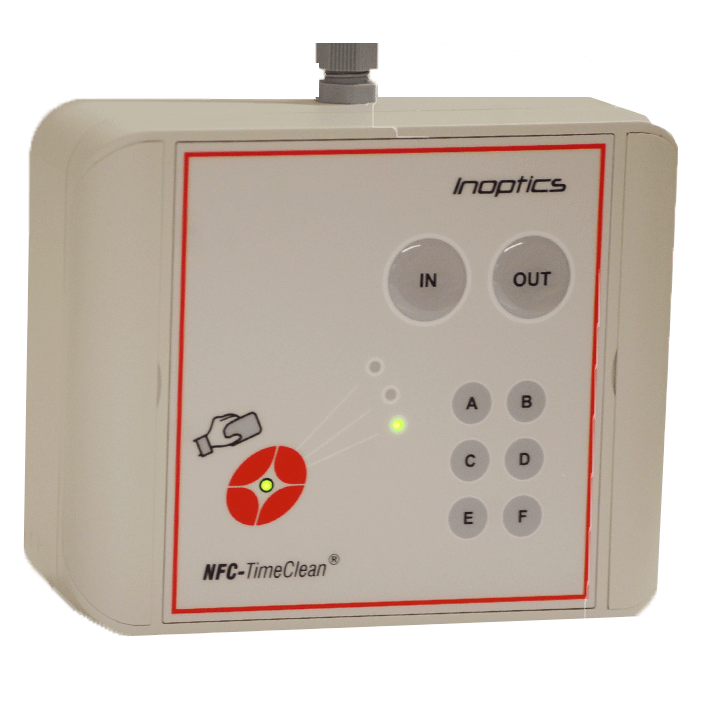 Main features
Log in with a PIN or RFID
Compact design that can be used almost anywhere thanks to an onboard battery and GSM mobile internet connection
Easy wall mounting
Digital text display with backlight
RFID reader complying with ISO14443-A and ISO14443-B standards at 13,56 MHz:

Example compatible tags: MIFARE® DESFire: UID + Application files , MIFARE® Classic: UID + Sectors, MIFARE® Ultralight UID + pages, MIFARE® Plus UID security levels 1 and 3, MIFARE® SmartMX (MIFARE® Classic and MIFARE® DESFire EV1 emulation modes), NFC (UID), Mifare Classic 7 Byte UID + sectors, Legic, ISO15693 (UID)

IP66 case, rated to operate between 0 to +50 degrees centigrade
Coloured lights, buzzer and speaker
Constructed from plastic for light-weight portability