Weekly rest (Working hours act 27 §)
Working time must be arranged so that the employee is given an uninterrupted rest period of at least 35 hours once every seven days. Where possible, rest periods should be given on Sundays.
Weekly rest time compensation settings
The weekly rest compensation can be defined in the Worktime > Administration > Working community settings > Work Hours > Weekly rest time compensation section or in the Worktime > Administration > Setting groups > Work Hours > Weekly rest time compensation section, respectively.
Below is an example of a 35-hour determination under the Working Hours Act.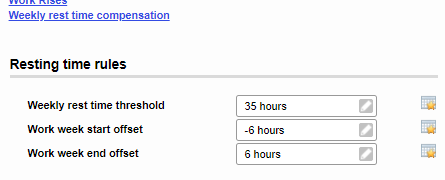 Offsets can be added to the work we are checking if, for example, your work week is Monday 00:00 to Sunday 24:00 but the rest time should be checked until 6AM on the day after the week, then the end offset would be +6 hours.
When using positive work week end offsets, the date the weekly rest compensation is compensated moves to the calculation day the offset ends on e.g. for a standard work week with an end offset of +6 hours, the weekly rest compensation will be paid on Mondays. This is because if we were to calculate the weekly rest compensation in real-time on the Sunday, and export those values to an external salary system, the values may change after people start work on the Monday.
Similarly, the setting Rendering options - Event rendering also affects when the weekly rest allowance is paid. If the setting is Salary earned is shown on the day the shift ends, the compensation will be paid on Monday.

The Compensation Rules section defines the amount of weekly rest compensation.
Compensation type can be: Not earned, Earned as fixed amount or Earned based on worked time. If the compensation is based on worked time, the "Earning period based on" setting must be configured also.
If the earning period is based on "Work at end of calculation week", the length of the Earnings period duration must be set. The length of the earning period duration regulates how long hours worked from the end of the earning period are included in the weekly rest allowance. For example, 24 hours determines that hours worked on Sunday are the basis for compensation. Normally, the length of the Earnings period duration is 35 hours, during which all work from Saturday 1pm entitles you to a weekly rest allowance.
Roundings can also be used if desired. When rounding is used, all events entitling to the weekly rest compensation are added together and the result is rounded according to the rounding rule.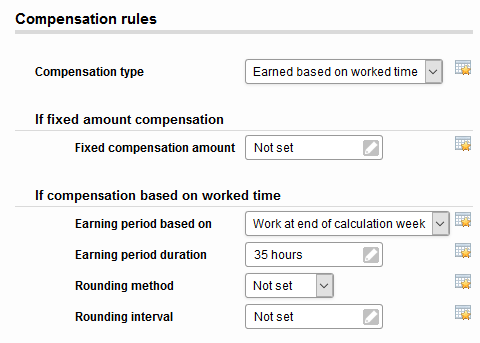 Can be set by event type which are treated as rest time when calculating weekly rest time compensation.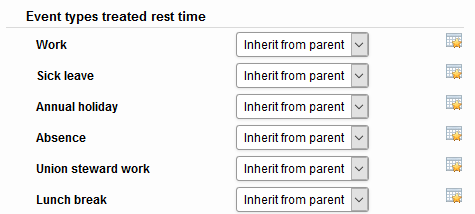 According to the settings in the example, an employee is entitled to 35 hours of weekly rest. To get 35 hours, an employee must be off work on Saturday from 1 p.m. Work will continue until 6:01 p.m. As a result, the service calculates a 5:01 weekly rest compensation.