Weekly rest (Working hours act 27 §)
Working time must be arranged so that the emplyee is given an uninterrupted rest period of at least 35 hours once every seven days. Where possible, rest periods should be given on Sundays.
Weekly rest time compensation settings
The weekly rest compensation can be defined in the Worktime-Administration-Working community settings-Work Hours-Weekly rest time compensation section or in the Worktime-Administration-Setting groups-Work Hours-Weekly rest time compensation section, respectively.
Below is an example of a 35-hour determination under the Working Hours Act.

The Compensation Rules section defines the amount of weekly rest compensation.
Compensation type can be: Not earned, Earned as fixed amount or Earned based on worked time. If the compensation is based on worked time, must Earning period based on set to: Work at end of calculation week.
Roundings can also be used if desired.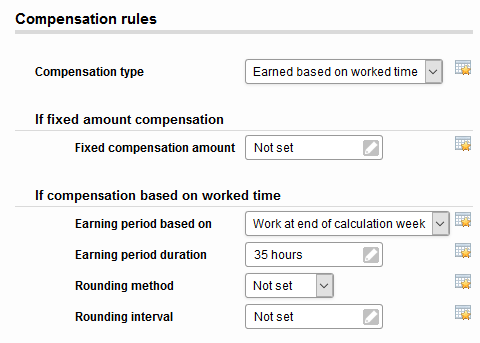 Can be set by event type which are treated as rest time when calculating weekly rest time compensation.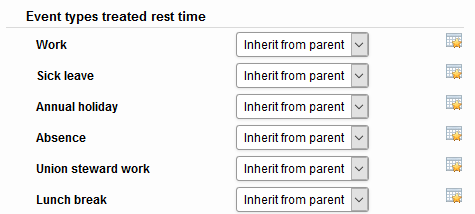 According to the settings in the example, an employee is entitled to 35 hours of weekly rest. To get 35 hours, an employee must be off work on Saturday from 1 p.m., but work will continue persistently until 6:01 p.m. As a result, the service calculates a 5:01 weekly rest compensation.